For most, it's the loss of mateship, the loss of the sense of belonging that contributes to the decline in mental health and well-being.
With suicide statistics in ex-defence personnel at an all-time high, Operation Compass was established as a platform to drive significant community awareness, change and outcomes in suicide prevention.
As one of 12 federally-funded trials in suicide prevention, the Operation Compass project is the only one in Australia to focus specifically on suicide prevention in the defence community. Chairman of Operation Compass, Lieutenant General John Caligari AO DSC (Retired), said the vision of the project is to reduce the rates of suicide in the ex-defence community, and their families, through transition, connection and adapting to life post-defence.
"We have gathered together a group of defence and health professionals, and those with lived experience in suicide and suicide prevention to address this issue in a coordinated way," said "It is a collective of experience, expertise and wisdom that is driving this vital project."
"Operation Compass now involves six campaigns with programs that are based on research and evidence by the Black Dog Institute, as well as on consultation with and feedback from grass-roots groups, key connectors in our defence community. The work that is being carried out under these six umbrellas is already making an impact.
"The Operation Compass campaigns are connecting at a grass-roots level, working directly with the defence and ex-defence communities to find out what they need and how they believe effective action should take place.
"The "Check Your Mates" campaign for example, has been very beneficial in raising awareness. Repeated messaging, encouraging our community to check on their mates, is having an impact. It is a simple, yet powerful premise, because at the end of the day, this is about prevention through connection. "The more we can reach out, connect and provide a network of resources and programs for ex-defence personnel and their families, the stronger we will be as a community."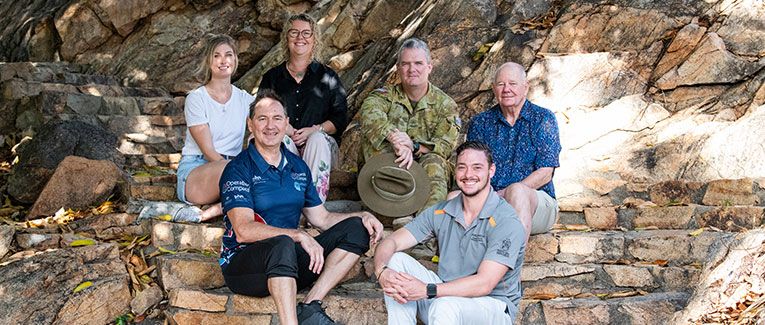 "We will no doubt have lessons to learn from this trial project, but from what we can see so far, it is having an impact, there is outreach and is it cutting through. The work we undertake and the outcomes will serve as a strong foundation for our future. Unfortunately, we measure success in this area by the number of suicides. We rarely, if ever, measure success by the increased level of wellbeing which prevents suicide, because it is very difficult to track.
"The defence community in Townsville makes us 20% of our population, so it likely that most people are involved in, related to, or connected in some way to someone in the ADF. This is not an insular project for a particular group in our community. Improvement in health and wellbeing in our defence community has a direct impact on the entire community. It is a community issue and we are working through Operation Compass to deliver community-based solutions."
One of 12 national suicide prevention trial sites funded by the Commonwealth Government.
Focused on Townsville due to its large Veteran community.
The only project focused exclusively on Veterans of the ADF and their families.
Coordinated through the Northern Queensland Primary Health Care Network
A project that commenced in March 2017 and expected to be completed by June 2020.
Chaired by Lieutenant General John Caligari AO, DSC (retired).
Managed by a full-time Project Manager and two Project Officers
Overseen by a local steering committee, implementation team and advisory group.
Take the challenge
Check on five mates this Anzac Day period.